Nyheter
1977 - 2017
40 år med rasen
Länk till
Resume 2016 // Resume 2017
3 januari
Ny foderhund Funatic Xo My Leaping
New c/o dog
Foderhundar // c/o dogs
STORT GRATTIS
till X-kullen som fyller 5 år idag den 28 dec
20 december
Nya bilder i galleriet
New pictures in the gallery
Galleri // Gallery
7 november
Nya bilder i galleriet
New pictures in the gallery
Galleri // Gallery
Två dgr för sent men nu kommer ett STORT GRATTIS
till S-kullen som fyllde 7 år den 18 december
4 oktober
Trevlig helg i Danmark på rasspecial. Med bra väder och i vår nya husbil :-)
Här är våra resultat från helgen!
We had a nice weekend in Denmark on breed special. With good weather and
in our new camper. Here are our results from the weekend!
Resultat // results
16 september
Nya bilder på Werner Wix Zelina och resultat
New pictures of Werner Wix Zelina and results
Foderhundar // c/o dogs
9 augusti
Nya bilder i galleriet
New pictures in the gallery
Galleri // Gallery
Zlatan hälsar och GRATULERAR
kullsyskon som fyller 3 år fredag den 17 juli!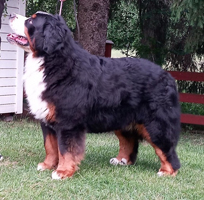 GRATTIS Y-kullen som fyller 3 år idag 17 juni!
11 juni
Nytt på valpsidan
News on puppy page
Valpar // Puppies
Nya bilder på Niro Bermondo Bohemia
New pictures of Niro Bermondo Bohemia
Våra hundar/Our dogs
Nya bilder och resultat på Werner Wix Wanted Dearly
New pictures and results of Werner Wix Wanted Dearly
Kullar // Litters